20 Feb
I am so excited to be with you today to share some layouts that I found while looking through the galleries today!!! There are so many fantastic pages it is hard to only select 6!!! So, here are my picks for today. . .
First up is CarpeDiem by HeatherH. The photo treatment caught my eye immediately and I thought the black and white worked so well with the use of those fun colors. The uplifting words just brought the whole page together!!!

The dimension on the next page is incredible. I could almost reach out and touch the flowers on aureli122 by tizote59. The design on this traditional style just drew my eye to the photo.
Next up is Behold the Sight by DivaMom96. Again, I was drawn to the photo treatment. This was so colorful and just let the photo shine!!! I am intrigued by the seamless use of the digital components from the wordart to the overlays.

And talking about the use of color, check out Happiness Is by agata68. I just love the strong colors used here. Sometimes I shy away from bold colors, but now I feel inspired!!!
And will you just look at This is What I Love by jennschultz!!! I love the circles here and that center with the skewed cutout was genius!!! The cluster work on the edges was spot on for this design!!!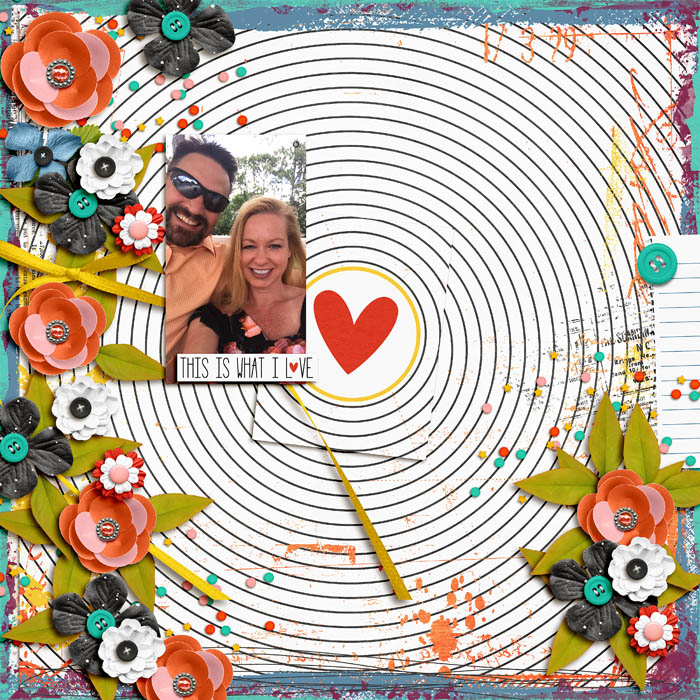 Finally for a sweet fix, I picked pieces-of-my-heart- by nanascrapper. I am loving all the pages I see with the cutouts and I thought the soft tone of this page was perfect for those sweet photos!!!
So these are just a sampling layouts in the galleries!!! I hope you enjoyed today's picks and find some inspiration for your own projects. Please visit the layouts to take a closer look and leave some love!!!
Until next time. . .
Kabra