11 Feb
Happy Sunday everyone!
I know some of you are just starting your day, it's night time already in my side of the world and my kids are now in bed. It was an awesome weekend for us as I made a little surprise birthday party for my second daughter last Friday. She was so happy and she had fun with her friends from school. Nothing beats the joy of seeing how happy your kid is, she kept on saying that we are the best parents.
I want to share some gorgeous layouts to get you going in case you want to make a page or just be inspired by the featured pages for today. Let's get started.
Favorite photo by Earlofoxford
Could this be any sweeter? Amazing photos in black ad white that really goes perfectly with the white textured paper. Love the shadows on the strips and the butterfly cut out with filled colors. This is so appealing with all the stitches, splats and everything else. You have to look closer to fully enjoy how beautiful this is.
This screams spring time for me.
Smile by Katell
Simply beautiful. Love the monochromatic design and how she cropped the photos. That small heart on the left side really adds beauty on the page.

The Little Things A-Z by Londoncuppa
This is spectacular and very catchy! I love her A to Z and now I am inspired to make one of my own. The lists are awesome and I can relate to some. I LOLed on the letter E. The gray background and the yellow hearts always go perfect together. The bubbles and the graphic alphas made the page standout. Love the photo so much and how she added the heart and wordings.

Laugh by Ellasspace
Adorable photos melt my heart. Love the energy she has and the sweet smiles. I also like the mix of flowers with all the snippets. Love the quote "Life is better when you're laughing," it is so true. The patterned papers balance the page and the photos, it doesn't look busy for me.

you are my person by Biancka
Just wow! The page is so interesting and gorgeous. I just don't know where to start. Just LOVE the vintage feel of the page, all the embellishments including the alphas she used are placed and tucked perfectly. Love the shadow works too and the deep rich color of the photo treatment.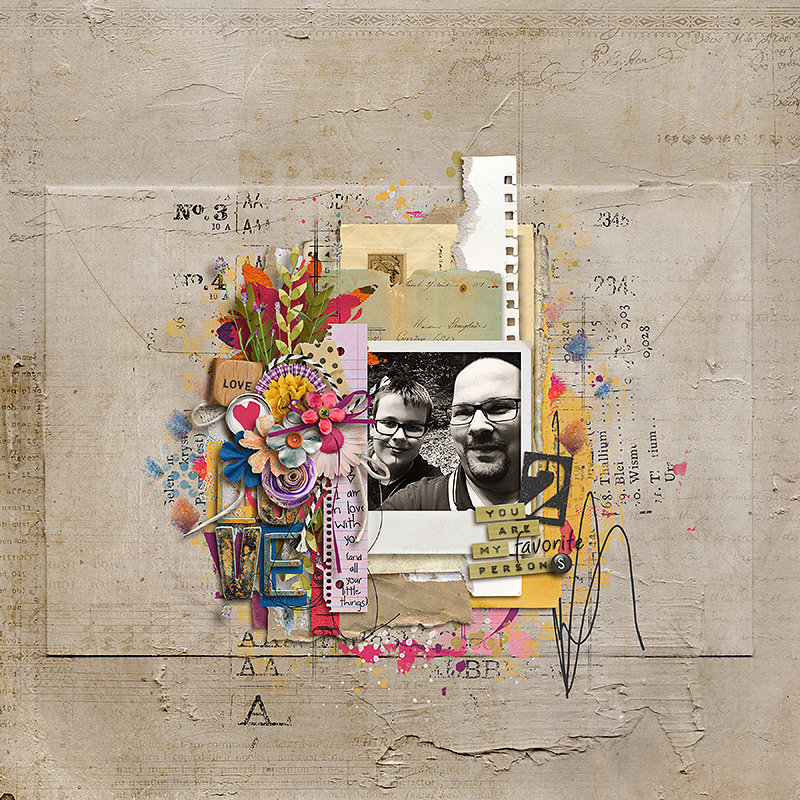 This is Mary by Adryane
So artistic! Love the use of stitches to focus on the subject and adds drama to the page. I adore how she inverted the photo and the blending and brush works she made. The chosen embellishments are amazingly placed along with the calendar stamp and crumpled paper. Amazing!
Thanks for taking a look at the layouts I've chosen. If you have time, it would be awesome to stop by and give them some well deserved pats in the back in the galleries.
xxx
Beth aka kewl_jive