Hi everyone!
Hope you guys are having a nice day/night wherever you are. Can't believe it's November already and the weather temperature here in South Korea is slowly creeping towards zero degrees but I am admiring the beautiful autumn season so far. Anyway, this is Beth aka kewl_jive bringing you today's fabulous standouts.
Here are my faves for today. Enjoy!
Happy day by Wombat
Who wouldn't fall in love with this gorgeous photo and page. This is divine! Love the word art on the background and how she blends everything here. Everything works perfectly including the swirls and splats everywhere. My list goes on and on.
Souvenirs de vacances by cocodou
Simply amazing! Love the white space and stunning color here. The art stroke on the title is just beautiful, so is the masking and the colors she picked. With this kind of weather here, I really love seeing this kind of a page. What a great memory to preserve via scrapbooking! I haven't really tried to do that but who knows, maybe next year I might try it.
Currently by JennMcCabe
Loving the nitty gritty mix of elements here. Such a great composition. The photo treatment is awesome too, it reminds me of a photo treatment called 1968. The page kinda looks like a hybrid layout and the splash of colors, stitches on the photo and the word art on pink are superb! I enjoyed looking at this page.
welcome-baby by misfitinmn
Fabulous lift! Congrats on the new baby, she looks like an angel. If this is her first page for the baby, she did really great. She will definitely treasure this page when she's already a grown up. Love the wooden background and the mix of papers and the stitches, it feels like the stitches are holding all the papers together. Beautiful and such a precious baby.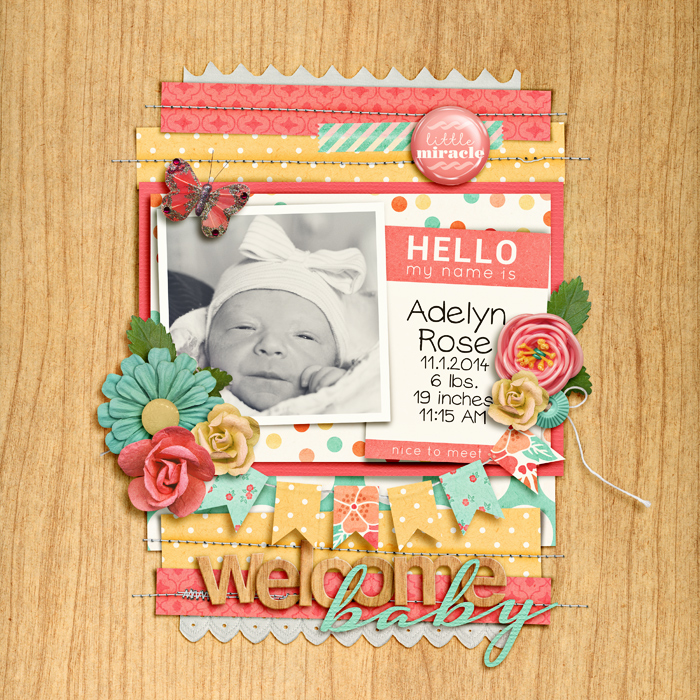 Very merry by whitneyt
Yes! I am so ready for Christmas pages and this one is no exception. The moment I saw it at SO, I was giggling as I am ready to scrap for the upcoming holiday season. The kit is just great, so is the page and she did justice on the page. Such happy photos wrapped with wonderful memories of last year's celebration. Love all the different kinds of flowers and snowflakes.
Jump for joy by thimbleberrie
Creatively done, feels like her creativity is overflowing. Please share some of it with me. I just adore everything about the page, it's so funky! Absolutely fabulous and yes, no rules! Love, love the woman picking on the right side with mouth opened and giving/eating all the love she could get.
Thanks for taking a peek at the layouts I've chosen for today. Should you have time, please stop by and give them some well deserved love in the galleries.
Have a nice day/night!
Beth (kewl_jive)