Hello everyone!
Can't believe that we are half-way through 2015, the next thing you know it's Christmas time. Time flies real fast and I am happy that digital scrapbooking is making our memories last forever. Hope you guys are enjoying your day or night and are happily scrapping or just cruising the galleries. This is Beth, a.k.a. kewl_jive, bringing you today's amazing standouts. Please enjoy my top 6 for today. Hope you like it!
Sunny day by Hanazana
I am a fan of her work! This is another amazing layout. I always love her freestyle design and how she mixes the elements. I have to look closely at how well she balances everything here. The stitches, sprinkles and splats here and there are just as beautiful as the photo. I know you will all agree with my first pick. The dollie and bunting add flavor to this great design.

Luv2trvl by Chbo
I love the black and white conversion here, it goes perfectly on her choices of papers. Love how she stacked everything on under the photo and the flowers she added. Love all the bits and pieces, not to mention the patterned papers and red scalloped.

Ice creams by roxana
I scream for ice cream! One of my faves esp if it's chocolate. I couldn't help but add this to my fave the first time I saw it in the gallery. Such a fun and amazing page with all fun elements. The different flowers in yummy colors really add beauty to the page. I am sure my daughter will be delighted to see a page of her eating ice cream. This is just perfect for summer.

Staycation by mrsashbaugh
Beautiful photo-less layout, what makes it more beautiful is the story. Glad they had a great time celebrating their anniversary. I remember every time my mom visited us, that was the only time we could go for a date without the kids. I love her cluster work here. Amazingly beautiful journaling and page.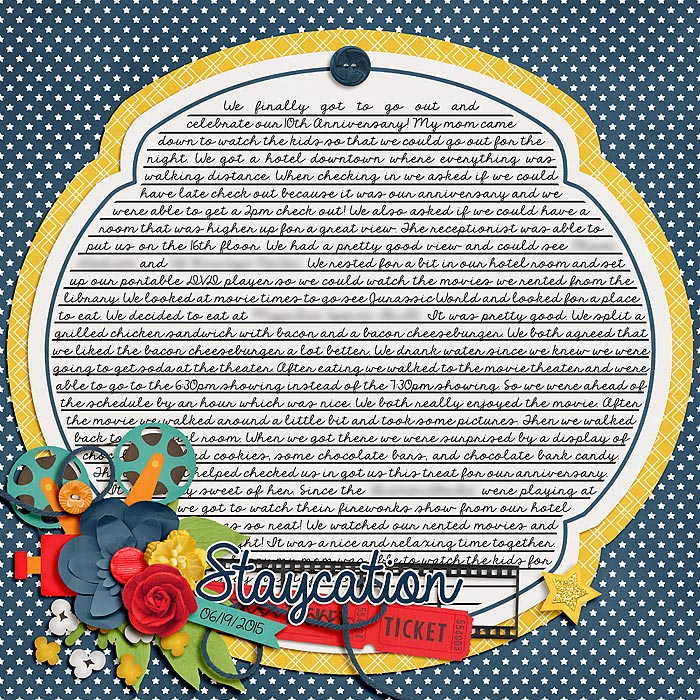 Beach strip by caapmun
Love her composition here, so wonderfully done. From brush works, overlays, blending of photos and framing. This makes me miss the beach. Beach days are indeed the best!


Perfect pear by Ann-Sofie
Awesome work on the card! Love the double ribbons in sheer and cotton and the color combi.

Thanks as always for taking a peek at the layouts I've picked for today. I would greatly appreciate if you could stop by and give them some well deserved love in the galleries.
Have a nice day/night!
Beth
kewl_jive