Hi everyone!
Autumn is one of my favorite seasons except for the recurring migraine due to the change of weather and temperature. Anyway, I have to enjoy my birth month and changing of colors and I couldn't wait to visit some beautiful places here. This is Beth, a.k.a. kewl_jive, bringing you today's gallery standouts. Without further ado, here are my picks for today.
By bike by Laure Scraps
This really caught my eyes in the gallery. I just love how she captured the precious moment and how she blends and extracts the photo. The way she added the frames on it is such an intricate design. I love moments like this. Gorgeous in every way!

Pilgrim by Brownie13
Love the colors, textures and the way she did everything here. So much to look at and I am enjoying the blending works and how beautiful this is overall. The mix of papers, elements and the highlight given to each embellishments is just perfect for fall layouts.

what if…by chigirl
Such powerful words to live by. I just adore the freestyle design. Great composition, such a happy page, love the burst of colors and mix of brushes and splats. Love the borders, flowers, stitches and just about everything here.Did I just mention how much I love this?.

Great Cats World Park by kcvance
Great b&w photos against the colored papers, I like the papers she chose. The white grainy background really makes the page pop. Loving the mix of flowers and the clean design. Couldn't stop looking at these beauties. The splats here and there really add balance to the page.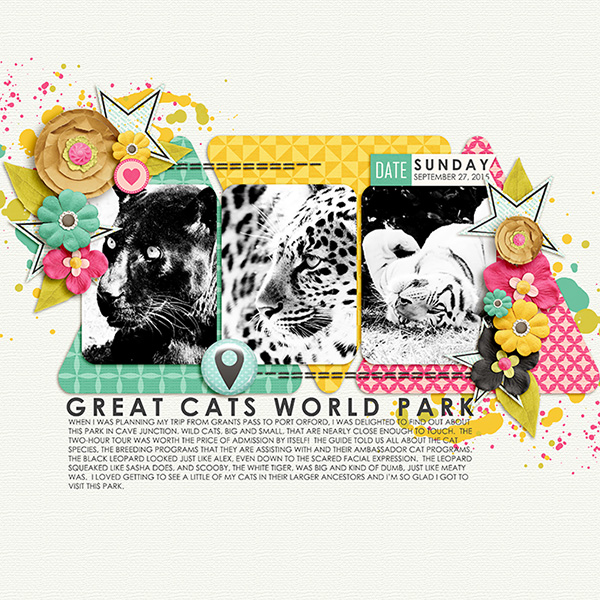 I do by Maja
Sigh. I just love layouts celebrating love and marriage. This is simply beautiful in every way. I can feel the love radiating in the layout. Love the gold and red combo along with the blending of the photo with the background. The placement of elements and shadows is also perfect.

June 2015 favorites by Ljutila
Such a great way to remember what happened for the entire month. I love the funky and fun design, such a happy thing to remember. Haven't done this and I always say that I will give it a try. Love the notebook paper and I am drooling on the date stamps and brushes. Amazing pictures, I am sure her family will have a great time looking back on the wonderful times they spent together. Ohh and I noticed a standouts on day 17. Woot!

Thanks as always for taking a peek at the layouts  I've chosen for today. I would greatly appreciate if you could stop by and give them some well deserved love in the galleries.
Have a nice day/night!