Hi everyone!
This is Beth, a.k.a. kewl_jive, bringing you today's gallery standouts. I can't believe we only have 23 days left before Christmas. This season is such a big deal for our family and my kids are anticipating it with much enthusiasm. I know this is the busiest time of the year, I just hope you are in sync with your projects whether it's a year in review or making personalized Christmas card. Winter is finally here in South Korea and we will have snow this week. Now, I envy those in the southern hemisphere, soaking and having fun in the sun.
Here are my picks for today.
cozy by 3littleks
I'm totally digging this precious, serene photo. This is so tender and sweet, amazing photo treatment. Beautiful hybrid page, the title work is just perfect.

Day One by dfwest
Awesome composition. Love how she drew inspiration from her own calendar and the jotted notes. Love all the stamps and brush works and the pinned pearl. Everything looks perfectly done here.

Tis The Season by motherbear
Fell in love with this page, everything just flows beautifully. Fabulous pictures, love how cooperative she is. Great work on putting all the elements together. Love the mix of alphas and how this looks like a Christmas tree, nice shadow work too!

December Daily 2015 Cover by Kjersti
I love her Christmas cover page. This looks very Christmassy with a fabulous photo too. The placement of elements just sets this page up to be a gorgeous one, well done. The kit just screams to me.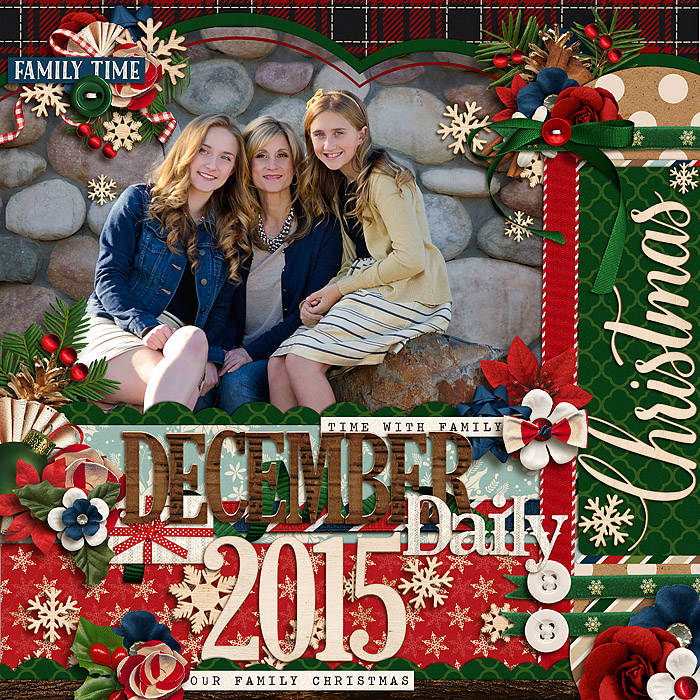 Christmases Past 1 by Miki
Love the vintage feel of the page. Love the process she made and very clever use of dollies making it a Christmas tree. Love how she scrapped about her old photos, glad that it was just the presents that burned. I am sure it was still an awesome first Christmas celebration. Love the touches of red, beautiful composition and brush works. So nice to see pages like this.

Mouse Memories by Flo06nice
This caught my eyes in the gallery. My kids are Disney fanatics who think that Disneyland is a public park that they can just go anytime they want lol. The big Mickey frame with red ribbon is just amazing! Love how colorful this is and the paper she picked. Nice word art and mix of elements.

Thanks for taking a look at the layouts I've chosen. If you have time, it would be awesome to stop by and give them some well deserved pats on the back in the galleries.
Happy Scrapping'!