Hi everyone!
This is Beth, a.k.a. kewl_jive, bringing you today's gallery standouts. Autumn has finally kicked in and the weather here is getting colder esp at night. In a few weeks, it's December and before we know it, it's 2016. Anyway, I hope you guys are scrapping your favorite memories, it's just amazing how scrapbooking brings us back to our favorite moment. I picked 6 of my favorite layouts in the galleries, I hope you all like it.
30 Days of Thanks 2015: Day 8 by Kim_R
I just love her 3o days of thanks layout. I am doing the same but without the layout. This is beautiful, I love the simplicity of the page and her collection of makeups. I love the shadows on the elements and I can relate to her journaling. I love collecting lipsticks and eyeshadows and love to play with it although my husband prefers no make up at all. Love how she documented her love for makeup.

My Room by MelanieB2
Such a great subject to scrap. Love the lil elements and splats and the focus on the photo. Love how the splats coordinate well with the colors in the room. I too will be nostalgic with all the memories it provided. Good luck on selling the house, hopefully it will create the same good memories for the new owners.

Fabulous by alannabanana
I always love a photo less layout. I love what is written on the journal card, the typography and her design. The colors are so inviting. Beautiful use of elements, the kit is amazing too and her use of white background really makes the page stand out.

be me by Nikki Epperson
Really kewl and fantastic page! Great details, love the cropping of the photo and how she used b&w conversion as it really goes well with the background paper. Love all the details, the stitches, edges, flowers here and there, brush works. I guess I said it all. This rocks! Awesome artsy page!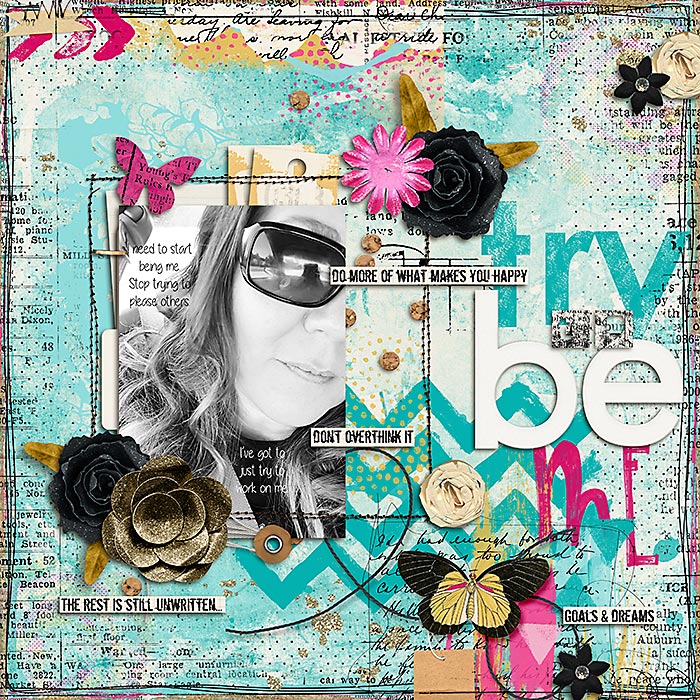 family by navaja77
There is something about this page that stands out, it looks so neat, crisp and fabulous. The photos were captured perfectly. I love the choices of papers and placement of ellies. I just love how beautiful this is.

Muraille de Chine by ValeJules
This rocks! I adore how she combined and worked on the texture and how she blended everything here. Awesome masking. This is so intricately done. Amazing in every way!

That's it for today! Hope you enjoyed my pics. I would greatly appreciate if you could stop by and give them some well deserved love in the galleries.
Happy Scrapping'!