Hi everyone!
As of this writing, I am enjoying my yummy cupcake from Magnolia Bakery, finally they opened their first store here in South Korea. 🙂 Glad to see you all here! Hope you guys are having a nice day/night wherever you are. This is Beth, a.k.a. kewl_jive, bringing you today's gallery standouts. Without further ado, here are my faves for today.
beautiful spirit by misslovescraps
I always love this kind of layout. This is perfectly composed. I just adore all the bits and pieces and her hand drawn girl on the background. The flower really makes the page shine. This really turned out amazing! I have no words to say, the blending and scribbles are just amazing. I know you guys will agree with me.

The Story Scrapbook by carollee
I love how she document her work, congrats on 30 years. This is such a great way to cherish one of the biggest parts of her life. I am sure she had made lots of beautiful memories. This photo less page is well designed. The torn paper on the left side and the checkered blue background is just perfect as well as the brushes and stamps plus the touches of stars.

Our Senior Girl by Carri73019
Awesome big photo, the photo treatment really blends well with the embellishments she used. Love the vertical designs, this really caught my eyes in the gallery. The pops of colors and the bokeh on the photo are superb. She's gorgeous! The clustering is so neat, love how she arranged the flowers.

Rainy Mornings by Biacka
I couldn't help but include this fantastic page in the standouts today even though this was posted a few days ago. I just love the simple, clean but intricate design and the mix of white, black and red. The red really pops along with the adorable photos. I love autumn too and I can't wait to see the changing colors.

2015 School by luckyme
She's a sweetheart. Awesome back to school page. The template rocks, so does the page she used. Love the funky design, this looks like a paper scrap to me, love the shadows too.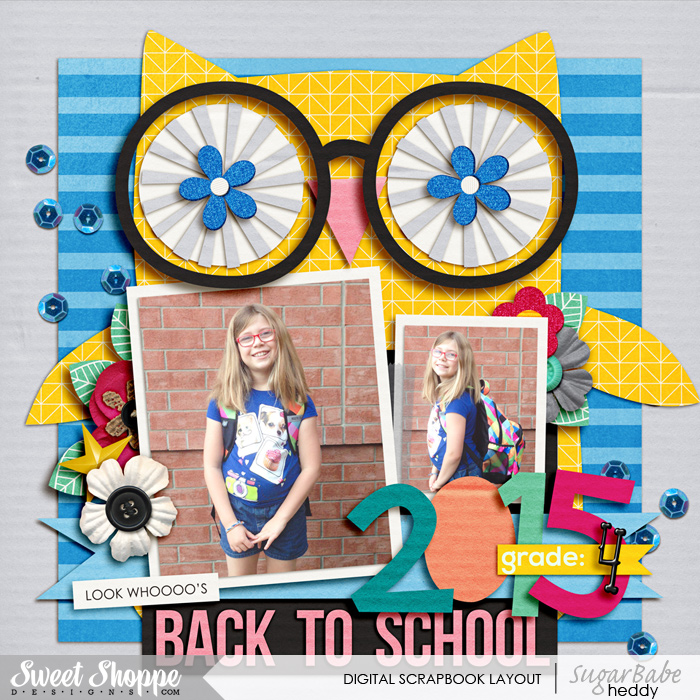 Bloom Where You Are Planted by Dvhoward
What a sweet photo. Such a beautiful bonding and totally well deserved to scrap. Love how she framed it in a distressed film frame. I just love how she did her background, all the blending and all sorts are just beautiful. Love the right amount of embellishments which lead my eyes to her subject. So soft and tender!

Thanks as always for taking a peek at the pages I've picked for today. I would greatly appreciate it if you could stop by and give them some well deserved love in the galleries.
Have a nice day/night!
Beth 🙂