Hello, this is Kabra here to bring you some gorgeous and inspiring works from the various galleries from all over digi-land. So, sit back and enjoy!!!
First up is Sisters May 2017 by DisneyMom. What is not to love about this super sweet page. First the diamonds drew me to the page and then I saw that adorable photo and that was it for me. And, how awesome is that title!!!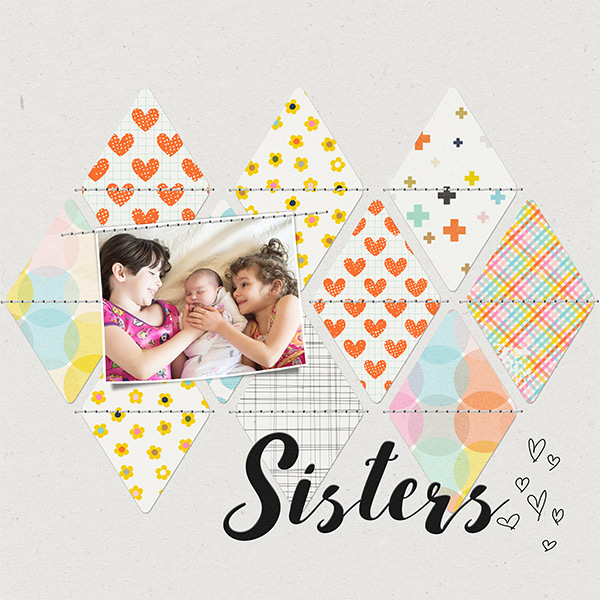 Next is Spring Rain by EllenT. This is a technique that I will definitely be trying at some point in the future!!! I love how one side is bright and happy with the other side using a sketch technique. This reminds me of walking in a spring rain!!!
Sweet by weaselwatchr took care of my pet page fix for the day!!! You may have noticed that I absolutely LOVE pet pages!!! They always just bring a smile to my face and I couldn't resist this beauty. I love the soft tones. . .just looks like the kitty is relaxing in a beautiful garden!!! This is just purr-fect!!!
For my cuteness factor today, I picked Popsicle by dvhoward55. I love the bits radiating out from the center to draw my eye to that sweet photo!!! I found the colors and the types of "spokes" to be just delightful and unexpected!!!
In my wildest dreams I could never produce a work of art like Colorfest by tinekereinders. I love the colors used here to go with that festive photo!!!
Finally on a day that could end with snow, I needed a spring fix and found Sunkissed by tiramisu hit the spot!!! I love the framing with the gorgeous background!!! Gives me hope that one day spring really will be here!!!
It is getting harder and harder to narrow down the choices each day!!! There are so many gorgeous pages in the galleries, so if you get a chance, drop by your favorite gallery and look around, you never know what you might find to give you inspiration!!!