Happy "Mid Week Over the HumP Day" –   Rachael here bringing you a little sunshine to brighten any day.  We are still in a deep freeze here in the midwest, and I am sure looking for anything that warms the heart, because the bodies are frozen!!  Well,  Look no further, let's  get started with these fabulous gems, I think they will bring a smile for your day!
First Up is this fabulous layout by Kellygirl Ride Like the Wind –  I was captured right away when I saw this fabulous layout.  The Sun reflecting across the water is just beautiful.   I love the pen-manship, exquisite blending and the depth she has created here.   This could be a cover to amazing book  – Beautifully done!
Next up is You Are by Jheri – And how can you not just smile when you look at this next layout.  This fabulous photo draws you right, beautifully captured.  The soft background with lovely brush work is accented to perfection with florals clusters, ribbons, pencil twists and tags.  The layered frame work is fabulous.   Gorgeous Layout!!!
These next layout will stop you in your scroll –  Say Cheese by Biancka has so many fun, fabulous, photos and  the details are simply stunning.   The use of the dark striped background with the pink accents is a Total Smashing selection.  Gorgeous use of clusters, and elements accent this super layout,  I love all the addition of the snips of word art associated with those famous words  – "Cheese"  — Super Layout !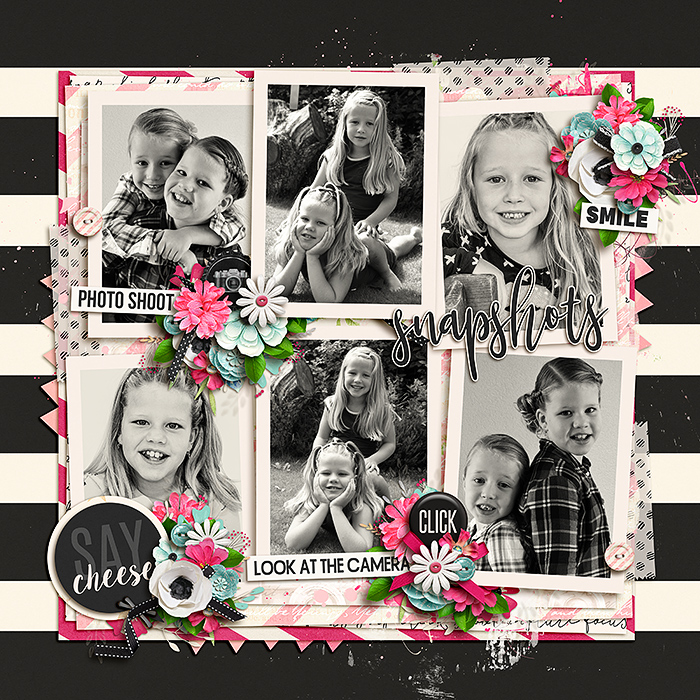 Just for me by Kam  This is another wonderful layout, and it just sang to me from the gallery.  Just soft and beautiful, I love the soft muted background, gorgeous brushwork with the combination of materials, the Eiffel towers in the background  make for a fabulous backdrop for that awesome photo.  The flow of the vines saturated with those roses, feathers and Amazing Butterflies are the perfect touch,  This is just lovely.
Never Give Up by got2digiscrap – I was captured by this next layout.  The artist has done a fabulous job with her title work and expressing her message.  I love the split design and the footsteps tracking across the page.  The mixed title work and vertical text in the footstep work well against the muted tones in the color palette, allowing her accents to grab your attention.  Super journaling –  A terrific page!
My last choice for tonight is this phenomenal layout – Pesos by Ferdy.   I so fell in love with this next work of art, a gorgeous art journaling page with details galore.   I like the patterned papers  lace and scattered elements as accents.  Everything has visual balance with a touch of  grungy and dreaminess,  her wonderful journaling is an extra added bonus,  This is one fabulous page! Wow!
That's it from me for today! I hope you enjoyed my choices and that you'll take a bit of time to stop by and leave some love for these awesome artists, and anyone else whose work stands out to you! Until next time, enjoy your week!!
Rachael – myssp
xoxo