It has been so hot here for a couple of days now, but our "official" heat wave starts today with an excessive heat warning for the next several days. I like summer, but I don't like sweating!!! And, I don't like driving and watching for buckled roads!!! That has been the bane of my existence for the past week or so!!! Traffic can really get backed up while they are fixing the road. . .and those fixes can take hours!!! After all, I have places to go and things to do – LOL!!!
Before it gets busy here today, I took a few minutes to go through the galleries and I have found a few pages to share with you, so here goes. . .
First up we have Summer Bounty by bcazzell. I am always intrigued by pages where the artist draws from so many sources to create a cohesive page. That background paper is a wonderful base for that journal-themed design!!!
Next we have Milestones by nanascrapper. Those older photos are so important to scrap. The journaling and song choice tell a story. Love the design with the smaller photo and the delicious border!!! So well done!!!
Then how about Monkey Beach by robinsismai. The fun colors caught my eye!!! The colors along with the background design creates such a wonderful sense of movement and that photo is just adorable!!!
Then there is Aquamarine by zanthia. The template is used perfectly with this page!!! Love the wonderful airy feel of the page and the soft pastels make for such a serene page!!!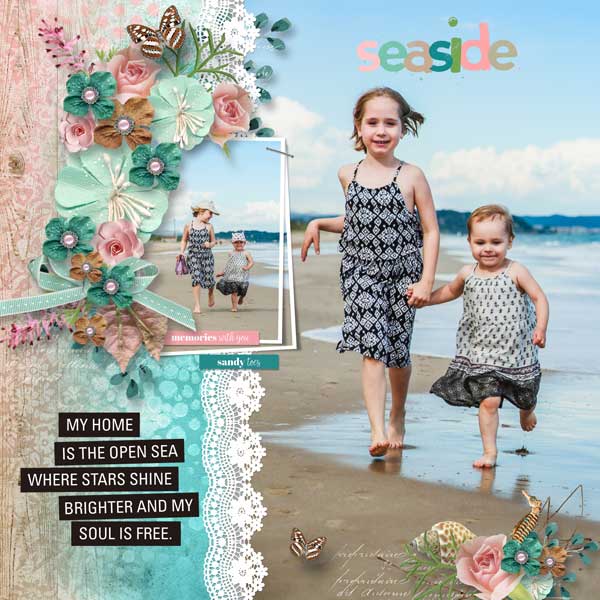 Next up is July Extraction Challenge by Tinisek digiscrap . Oh my goodness, this page is so pretty!!! Love the extraction and framing. Plus, those corner clusters and border work create a perfect garden for the photo!!!
Last, but not least we have Sunshine On My Mind by Oldenmeade. I love the watercolor techniques used here!!! The OOB work creates such a magnificent feel for that sailboat!!! And the sweet cluster is just perfection!!!
And, those are my picks for the day. . .if you have time, please stop by the galleries and leave some love and while you are there, find your own inspiration!!! And, keep cool!!!