Happy Friday, Rachael here winding up the week and getting ready for a super weekend!   We are well into summer and it is a sweltering hot one at that.    So, if you are enjoying va-cation,  a stay-cation or embarking on a destination – I hope you are all enjoying fabulous summer time festivities and the great outdoors.  The Galleries are heating up as well, and I think I found a great variety of standouts with just those thoughts in mind.  I hope you enjoy them and get some inspiration from each one!
My first pick for today is this gorgeous layout from Yorkiemom Enjoy the Little Things with all the ingredients for a perfect day.  This rendition of a summer day is complete with gorgeous blending techniques, lovely framing, stunning elements and clustering with gorgeous shadows.    You can almost feel the water slapping at your feet.  Her title is so fitting, pure enjoyment of the moment.   Stunning Layout!
Paradise Found by Arte Banale – This layout is true Paradise – Clean, crisp and captivating,  scrapped to perfection.  These Great photo captures are framed and positioned for a perfect and balanced layout.  Her addition of Word art, the banner and beach elements complete this layout – and will leave you with "Good Vibes" for Sure!
Wow! This layout is stunning and really jumped out at me! Sweet Summer Days – by Paigetaylorevans – I love the gorgeous colors and how they are blended together. The repetition of  paper strips forming this gorgeous circle wreath make a super back drop for this totally adorable & fun photo.   Love, love the labels and SWEET Word art  – This makes for a Totally Happy Day!!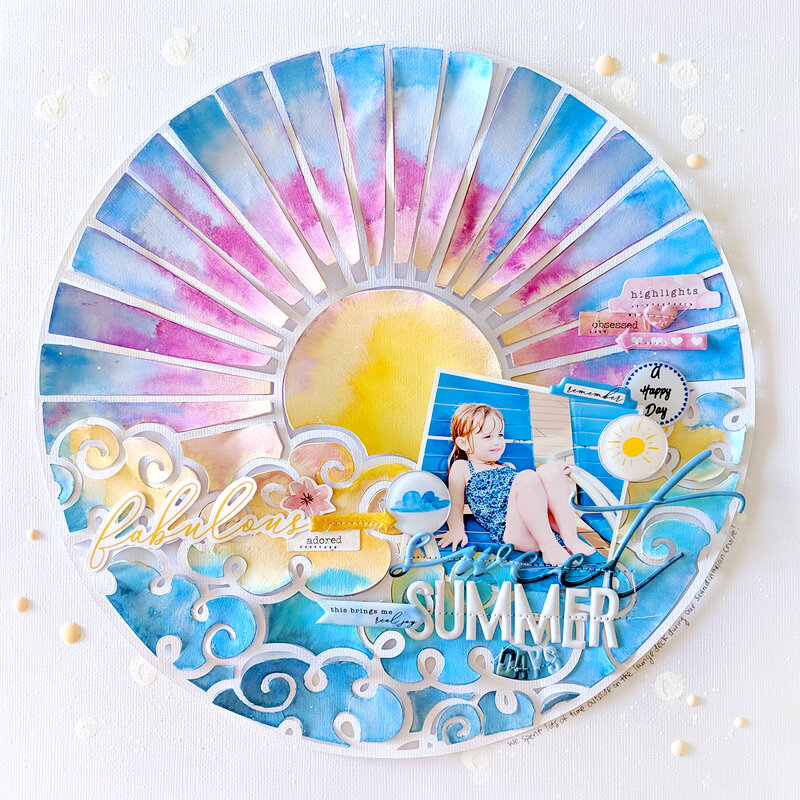 Summer Is by Roxanna  This layout really did make a splash in my book! Fabulous and effective brush work make this a dramatic masterpiece.  I love the black and white feel of this page with the splash of color.   I also appreciate her choice of simple elements and a lot of white space that allow the photo and journaling not only to speak, but to shine. – Super Layout!!!
Heaven's door – La porte du paradis by Martine29  – This would be a stunning place to be, for sure.  The colors here are just beautiful with amazing blending and brush work paired perfectly with textures that give a wonderful dimension to this page.  I love that her title scrolls along the bottom of her photo, a perfect touch.  This is Breath-taking!!!
Just Go Gemma has created a charming photo-less page.  I just love everything here, this composition is just amazing!  I love the grunge feel with the sepia coloring. The compass in the background is brilliant and the  fabulous brushwork and blending are so effective here. The blocked stacked papers host the amazing cluster.  I love the quote and the wander tag, they support her title so fabulously!   Everything comes together beautifully to make this a Stellar standout!!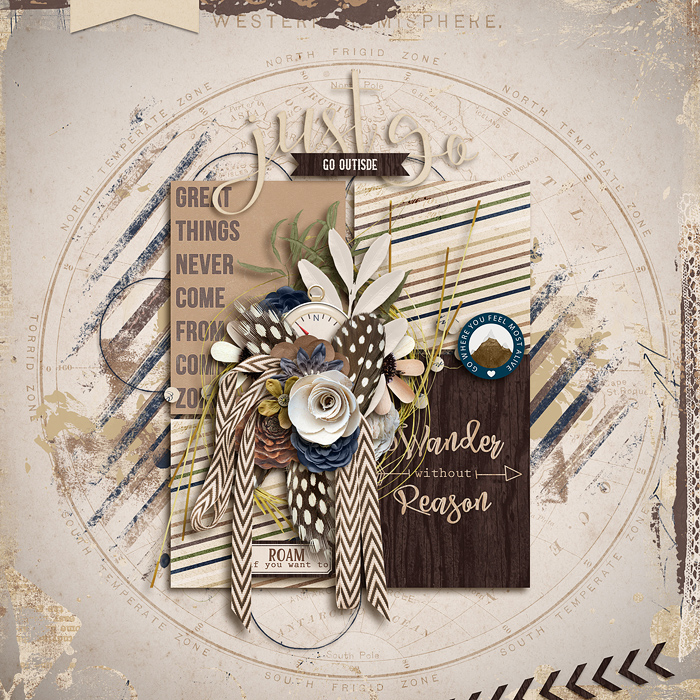 That's a wrap for me –  I hope you enjoyed the layouts I shared with you today.  If you have time, please click on the individual links to leave some love for these designers!  have a super weekend and enjoy some scrappin.
Rachael – "Myssp"
xoxo