Happy  Wednesday Everyone, Rachael here filling in tonight for Beth who is enjoying a great get away with her kidos.   So happy to be  bringing you some of my favorites from the around the galleries. It's always a pleasure when it's my turn on the blog. I get the luxury of visiting more galleries than I normally would in a day.  Here are my picks, we are going to do some color play tonight!
My first pick tonight goes to Remember This by Alannabanana – Totally Gorgeousness here  – I am in Love with this background paper with it's soft watery colors. I  appreciate her choice of simplicity and white space that allow this photo not only to speak, but to shine.  Beautifully done!!!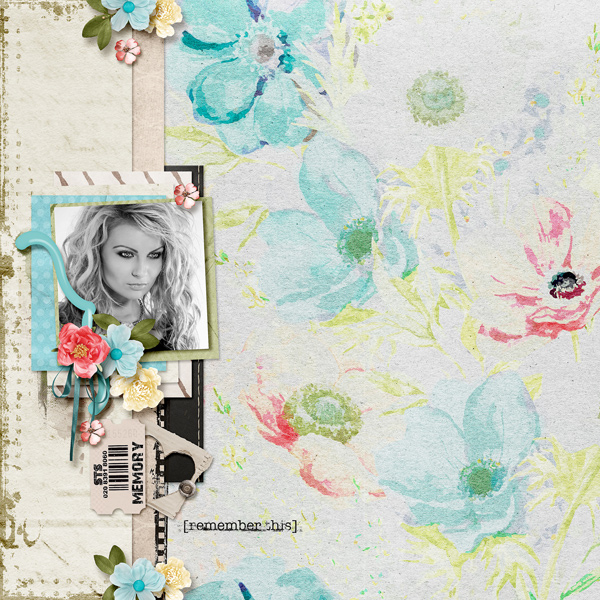 Next up is a Splash of Color for sure by EllenT.  What a fun filled fabulous Layout.  I love that she started out with the grid background and has added tons of sunny, beachy, splashes and super layers of frames for her spectacular photo.  The striped paper strip really adds depth and dimension for a totally cohesive contrast – Great Splatters give this page a "Kick"  – Awesome Layout!!
Through the Lens by Zwyck  –  Ohhh my what a beauty!  This Color Palette is just amazing here and totally different than my other picks for tonight.  Fabulous extraction  love how the artist places here title and journaling so perfectly!   Well chosen embellishments play up the color scheme adding  pops of color.  Beautiful use of the brushes, paint and grunge in the background make for  great textures and  bring everything together beautifully!   Love This!!!!
Scrap Love by Icindi  – I fell in love with this photo series when I  saw this layout.  Love, Love, LOVE  the fabulous captures, and lovely journaling of memories, here.  The artist has created a fabulous backdrop with the colorful ribbons and  really makes this layout pop!  Fabulous choice of  patterned patterns papers, use of elements and gorgeous clusters create a dynamic effect.   All of the Word art on this layout are totally awesome and perfectly placed.   The bit of a tilt to the journal cards is the perfect final addition.  This Layout Totally "Rocks"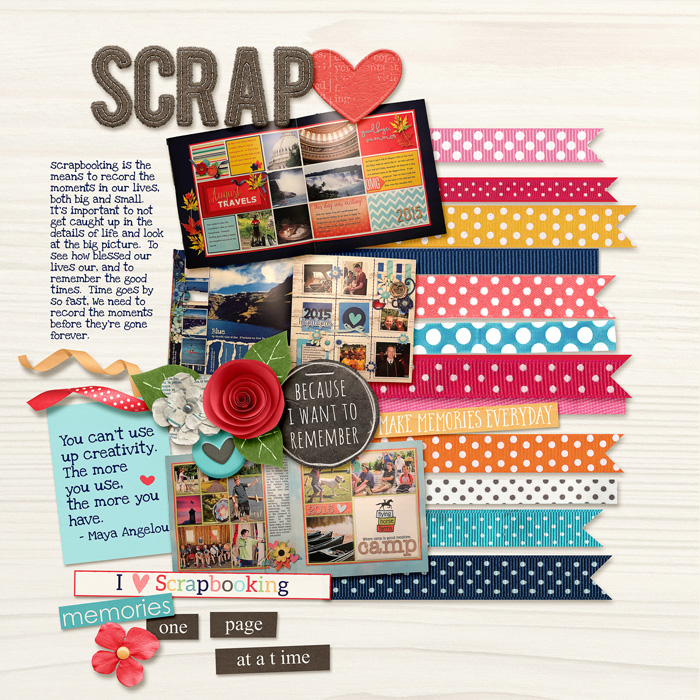 Lauren and Me Sweet Memories by Grantlaurensmom –   I absolutely love the color scheme of this one!  The artist has used this template to perfection, with a few added touches of her own, I adore all her amazing layers and perfect element touches.  The heartfelt journaling makes this a super sweet Treasure for sure – Lovely Layout!
Iris Jaune by Dids  This is a fabulous floral page with lots of grunge! The way the photo is blended and placed is brilliant and filled with vibrance –  Love it!  Great textures and brush work.  The paint colors are so awesome and the word art is just perfection.  Very Cool page!