Since it is the beginning of the month, it seems like there are sssssooooo many fabulous pages in the galleries!!! And it was fun to see so many done for challenges!!! I don't know about you, but I really do enjoy doing challenges!!! As I went through the galleries, I picked my top six for the day so here goes. . .
First up is LO For October Challenge 6 by FloridaGranny. On my goodness, how FUN is this page!!! I love the overall black and white theme. That chevron paper is the perfect choice along with the B&W photo!!! And, if you look closely, that photo is repeated at the bottom of the page!!!
Then there's Brotherly Love by helptheold. It is no secret that I adore pet pages!!! I love the unique color choice here!!! And the framing is so interesting!!! Finally, who can resist that photo!!!
And, how about A Grand Moment by Leablahblah. I saw this page and thought how special this page will be at some point in the future. For me this is why I scrap – to capture those priceless memories and moments in time!!! I love the bright, happy tone of the page. So well done!!!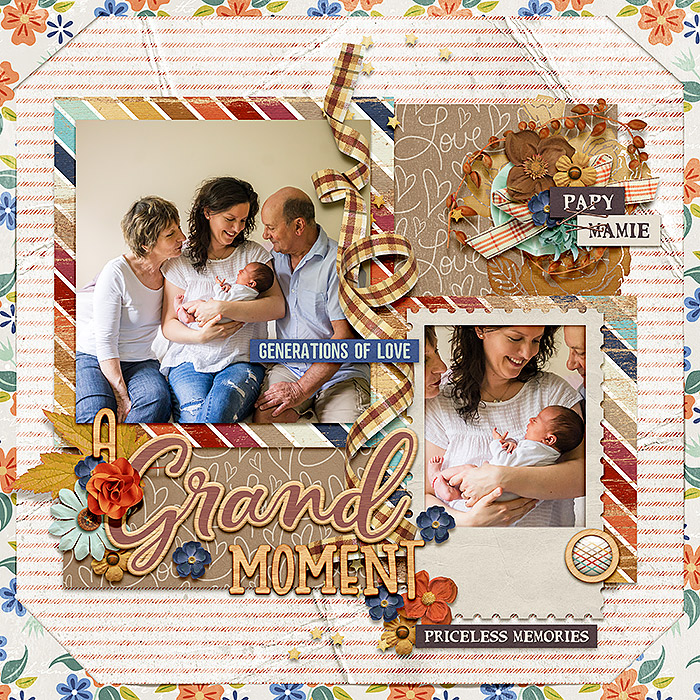 Next up is October by Gina. The lighting effect drew me to this page!!! I love the swirl that take my eye to that photo!!! And the cluster work is exquisite!!! And, can I just say, being a font fanatic, I want that "October" font!!!
My next "find" is Enjoy The Little Things by kellygirl. I am always in awe of artistic pages like this!!! The warm, rich tone of the page is perfection!!! This could be printed and framed and hung on the wall!!!
Last, but not least we have Autumn Road by Beth. What a perfect autumn page!!! Love the different photo treatments and how the smaller photo uses an OOB for those trees!!! And that tree and child elements are the perfect touch!!!
And, those are the selections for today. It was so hard to narrow it down to six!!! I hope you get a chance to take a look through the galleries and find your own inspiration!!!