Hey there, hope everyone is having a wonderful day!!! My got a late start – I overslept!!! That is something that doesn't happen all that often, so I must have been REALLY tired!!! I've picked some goodies for you to take a look at today so let's get started!!!
First up is Reach by mystampin2003. Well, I love everything about this page!!! Love the way the eye is drawn across the page and the soothing colors. Then there is the use of those circular components throughout and the tight use of the text. Amazing work of art!!!
Next we have I Quit by MandaT. I am always intrigued by photoless pages. The journaling conveys a journey and the use of the clusters down to the sunflowers relays the feeling of hope and that things work out for the best eventually. And how awesome is that font selection!!!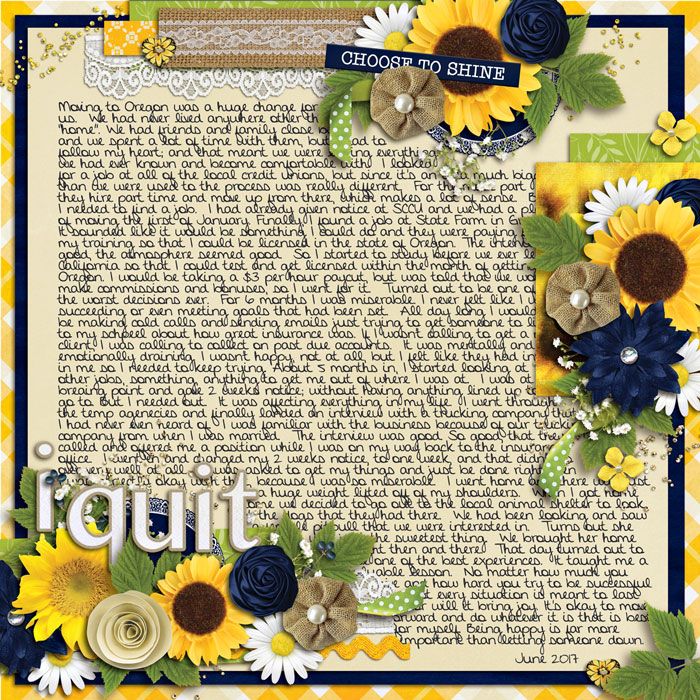 Then there is This Swallow by Tina1978 . What a wonderfully scrapped traditional page!!! Love the shading in the 4 corners of this page, for me it gives the whole page a sense of dimension. And the cluster work is just amazing!!!
And how about Use It All by Ursula. You have to know I love a good pet page and this one just drew me in!!! I just just see that bounding furball running in the grass. I love the minimalist design that lets that photo be the focus of the page!!!
For another fabulous find, we have Art For The Soul by ScrapaholicSherry . What a fantastic explosion of color!!! There is so much to take in and so well done!!!
And, last but not least there's Rosie's Mini Kit Challenge by yorkiemom. I love the serenity of this page!!! The cool blues are wonderful and the clusters frame that masked photo to perfection!!!
Those are my finds for today. Hope you like the selections. . .if you get a chance take a look through a gallery and find your own inspiration!!! I learn something new every time I take a stroll through a gallery!!! And with that, have a great day!!!