Goodness, it is hard to believe it is June already!!! It occurred to me today that I should be using this time to get the Christmas scrapbooks and calendars started!!! Maybe I will do that once I get a couple of other projects done!!! I think I have two more closets to clean out and then there is not much left to clean. . .just trying to be productive LOL!!!
I took some time this morning to go through the galleries and I sure found a lot of inspiration!!! Here are my picks for the day, hope you enjoy them. . .
First, we have Vicki Robinson June Challenge by AZK. The balance of the page drew me in. Love the brushwork and I have to admit, I cannot resist a butterfly!!!
And how about Idyllic Hawaii by b2halter. The framing of the photo with the tear creates such continuity on this gorgeous layout!!! That paper tear seems to mimic the wave so well. Great design!!!
Next up is Beach Adventure by carolwenxin . The soft, subtle colors caught my eye with this beauty. For me, this captures the beach theme so well!!!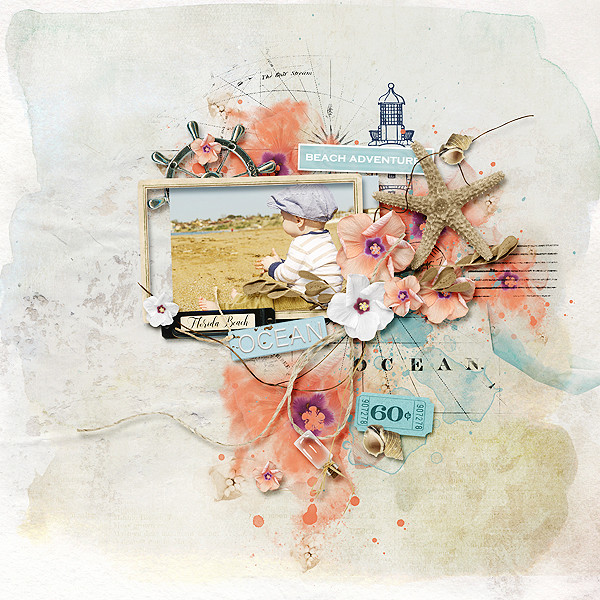 Then there is you're a shore thing by gina. I love everything about this page from the use of the photo to the textures. This is a beautiful work of art!!!
Another fabulous page is I'm All About The Summer by Ange. The framing of that photo accentuates the action shot so well in my opinion!!! I get the feel of water splashing and those flowers add just the right pop of color
Last, but not least, we have Silly Happy Mood by Margje . The blending of the photo along with the photo treatment are spot-on!!! And I find that color combination very intriguing. . .I love it!!! There so much attention to detail with the brushwork. Great page!!!
And, that is a wrap for me today. Hope you have enjoyed the picks!!! Have a great day!!!