Hey, Happy Tuesday everyone.  I hope you are all well and safe. A special shout out to all those on the front lines fighting for us.   Rachael here bringing a ray of sunshine to most everyone in the world right now.  As scrappers' we don't have to look far when things around seem all too heavy, and we find there is a certain amount of therapy for us to jump in and loose ourselves in some scrap therapy.     So with that in mind, my post today is an Infusion of Vitamin "SEE" "Everything Happy and Full of Sunshine and Cheer".
Still Smiling by SharLamb is packed full of everything to leave you smiling.  Amazing framing of these little adorable kidos is so creative and artsy.   I love, love the blending on this textured jean background creating Total Gorgeous-ness. Superb use of the jean alphabets stitched together to make her title, I keep looking over every detail she has captured here.    Fabulously Done!!!!
Best Friend by Angela Tombari – This layout totally exemplifies gorgeous-ness!   Stunning use of those arrows and color for this photo of best-ies.  I love the variegated color repetitions and swirls of ribbon, paint splatters and sprinkles of love all about – making this a Captivating layout!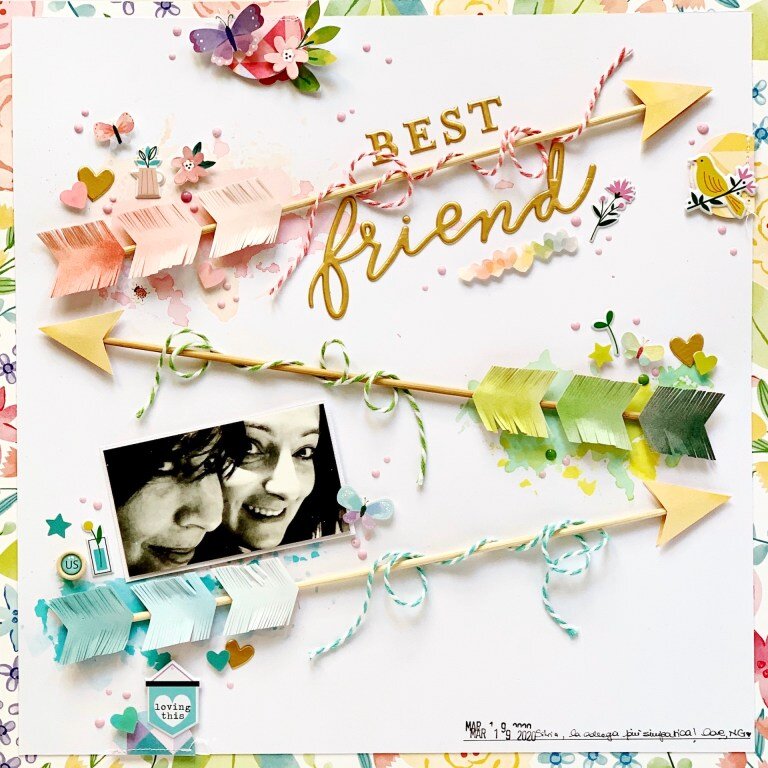 You are Capable of Amazing Things by Ellasspace – This just made me smile and emanates pure Joy! There are so many gems of layered goodness with her exquisite clustering, butterflies and her title that just sings "happy". The lovely wood background with a hint of color is the perfect setting for this layout filled with amazing colors and patterned papers.   She has used delicate elements, swirls, gorgeous shadows and the right amount of splatter to create this lovely and Adorable Layout – LOVE!!!!!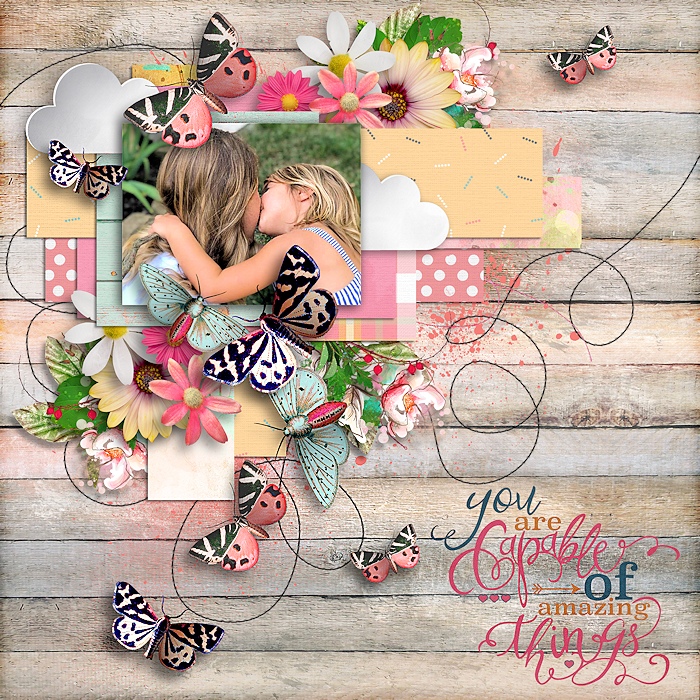 Hello Spring by Beth is delightful and refreshing and has all the ingredients for a perfect spring day.   The artist has done an incredible job and drew me right in with her gorgeous colorful spring florals and color palette.   So full of wonderful details everywhere you look.   I absolutely  adore the multiple photos mixed with the blended photo, divine brush work, and that lovely title work – Total Perfection – XOXO
Priceless by Agoymerac – I love the softness and  simplicity of this layout.  The scrumptious floral clusters, lovely paper strips, lace elements and patterned paper are flawless with this priceless photo.  The brush work makes a lovely background with this breath-taking color palette.  LOVE this Totally Beautiful Layout!!
And if you are just n the  mood for a get away, I found the perfect retreat. Beach Memories by Tamsin – This artist has master-fully blended this magical escape.   Totally captivating, soft strokes, watercolor blends and textures make this artwork a stunner –  her splash of the tropics  remind us that winter is not here to stay and summer may be just around the corner, or we can dream. A Beautiful Masterpiece!!!
Those are my picks for the day, I hope you've enjoyed!!  When you have a moment, please click on the links above and leave the artists a comment.
Keep scrappin' those beautiful Layouts – stay, safe and healthy & wash your hands!!!
Rachael ~ myssp
xoxo