For those of you in the US, Happy Thanksgiving. Here's hoping you have a safe and fulfilling holiday. For me, this is my absolute favorite holiday and I refuse to let anything take my spirit away!!! This is the first Thanksgiving that I can remember it just being my dh and I. When we were first married, we would trek from his family to my family which was a good five hours away. When the girls came along, we continued that tradition for several years. It was always Thanksgiving at my Mom's house and Christmas here. Until 16 years ago. . .Mom died the day before Thanksgiving. Even that Thanksgiving, the girls were with us. The very next year, we celebrated with a new son-in-law and a feast at our house. As I look back, that is a LOT of turkey!!! This year will be different. Gatherings for our family have been cancelled for both Thanksgiving and Christmas in the hope there will be many more holiday gatherings to come!!! We will come out of this!!! But this year, there will be a small feast for two. . .but it will be yummy as always and then there will be sports to watch and a nap to be taken – some traditions continue!!!
Now, before I go fix those rolls, I took a stroll through the galleries and here are my finds for today. . .
First, we have
Up To Christmas…
by Marleen. Isn't this just delightful!!! So full of whimsy and I LOVE it!!! The simple design and that pop of red initially drew me in, then it just made me smile!!! So fun!!!
And how about
Sweet Summer
by RhondaB. As you may well know, I simply can't resist pet pages!!! I love the bright, happy colors so maybe this is just what I needed to see on a cold, rainy November day!!! Love that photo too!!!
Then there is
Some Bunny Special
by Roxana. What a sweet page!!! The design lets the photo shine here!!! And I love the curled frame!!! That little bunny is the perfect touch!!! I think that muted brown and blues may just be my new favorite color combination!!!
Up next is
Nostalgia
by Grazyna. What a beautiful page!!! The brushwork just ties everything together so well, and the soft greens are so pretty!!! Each time I look at this page, I see something new and exciting!!!
Couldn't pass up
Grace & Gratitude
by janik. First of all, the rich, warm colors are so pleasant!!! And I love the flow and connection between the photos and elements!!! What a wonderful design!!!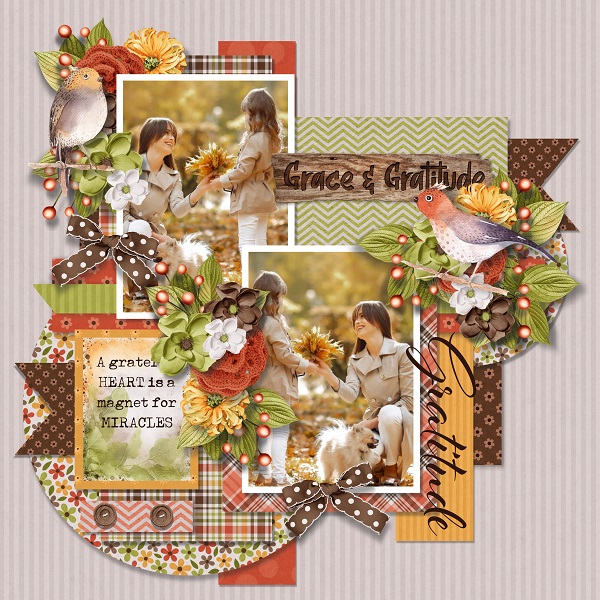 Last but not least we have
Grateful For. . .
by sbpoet. I am in total and complete awe of art journal pages. . .and this one spoke to me like no other today!!!
And those are my picks for the day. If you get a chance, take a glimpse through your favorite gallery and see what you can find!!!