Happy Friday everyone – hope you are all staying safe and healthy, with all our pandemics, epidemics, hurricanes, earthquakes, and politics I am so thankful for my outlet ~ scrappin' friends and community.   Browsing all of the gorgeous-ness in the galleries is a great therapy and escape for sure!   Rachael here bringing you my favorite finds from this Friday, the last day of July – hard to believe right?  Well, let's get started………..
Frist up this this layout  Cherish by Miyuchi –  perfection in every way.!!  Gorgeous, layers upon layers of floral goodness, fabulous colors and yummy clustering. So many elements tucked in make this an eyecatching masterpiece and a Brilliant Standout – Love, Love, Love!!!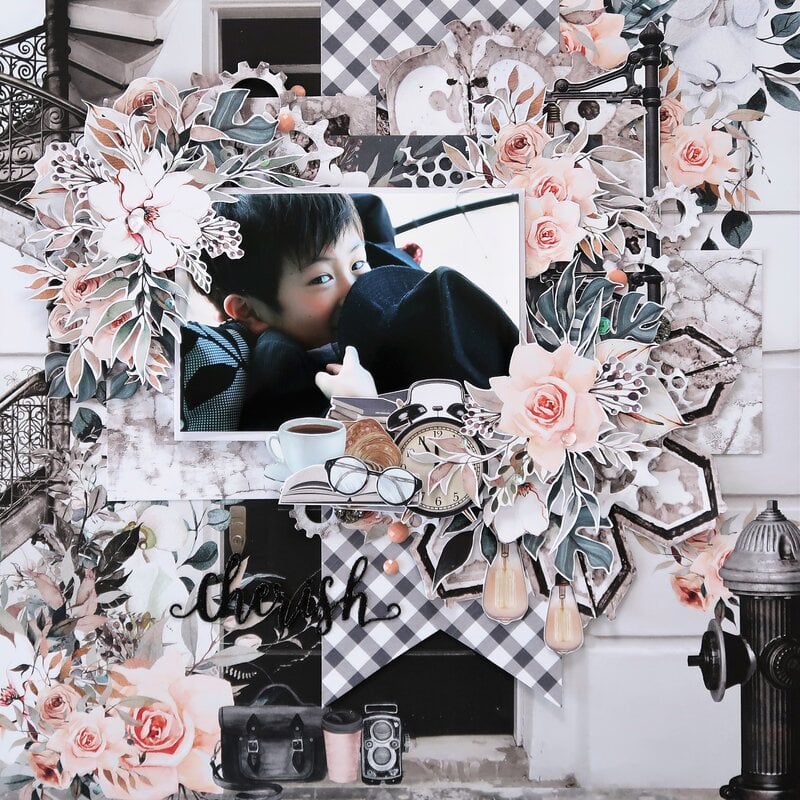 This artist has master-fully blended this magical garden dream. 190620_bday44 by zinzilah  – Gorgeous blended photo and I adore the dramatic touch of the balloon with the heart thread stitching.    The artistry here is just captivating, soft strokes, watercolor blends and textures make this artwork a stunner –  I love how she placed the  frame and that crowning butterfly  ~ A Beautiful Masterpiece!!!
This next layout makes a total splash in my book. Let's Make A Splash by Kayleigh – The artsy vibe of the soft paints, brush work and the torn alphabet cards are an amazing touch to host these rockin' summer time photos.   This layout is loaded with a  Fabulous mix elements making this a  smashing success. I love the brilliant mix of ribbons and pattern papers.  100% HaPPY!!!!
This next layout is simple with the right amount of white space but packed with details and a total fabulous dramatic black and white capture.  Dunia ThisisAugust by CathQuillScrap –  I love how she has layered  these brilliant florals and pastel paper strips that allow this photo not only to speak, but to shine. Fabulous job with the scripted title down the side – Fabulous Layout – xoxo!
The artistry displayed in this next layout is nothing short of brilliant!  Delice Beach by reginafalango – Simplette I am  Lovin'  every little detail that the artist has included. Exquisite framing of that gorgeous photo, the folded paper layers, hat and glasses add a touch of whimsy – screaming great escape.  Fabulous and effective use of paint, florals and I love her title – Very Lovely!!!
My last pick for tonight is Merry Holidays by Erin2 –  I absolutely loved this fresh layout in the middle of summer – to remind me of my favorite season of all.  I love, love, the simplicty of this gorgeous blocked style layout, complete with lovely stitching  and just the right amount of accents make this layout sparkle.    The holidays always bring a peace and warmth to everything and everyone around and this brings that sense of escape – right now, a little Christmas in July – Perfect!!
That's a wrap for me –  I hope you enjoyed the layouts I shared with you today.  If you have time, please click on the individual links to leave some love for these designers – have a super  weekend and enjoy some scrappin' and please stay safe and healthy.
Rachael – "Myssp"