Happy Tuesday everyone, hope this finds you all safe well, – thoughts and prayers to all of you experiencing extreme weather conditions.  For those of you who are not used this severe weather it does bring a lot of grief, so hopefully you have been all staying inside enjoying some scrap therapy, and I can pretty much say from the galleries that is a BIG YES!!!!
If you live in the lower 48 this is a View that we are all mostly experiencing today – View by Zwyck is our first favorite of the day.   This layout exemplifies a beautiful winter day, well if you are inside that is….   Gorgeous blending of her focal photo and then detailed branches are displayed in her stacked collection.  I love the touches of lace and blended brush work frame – This is simply a stunning layout!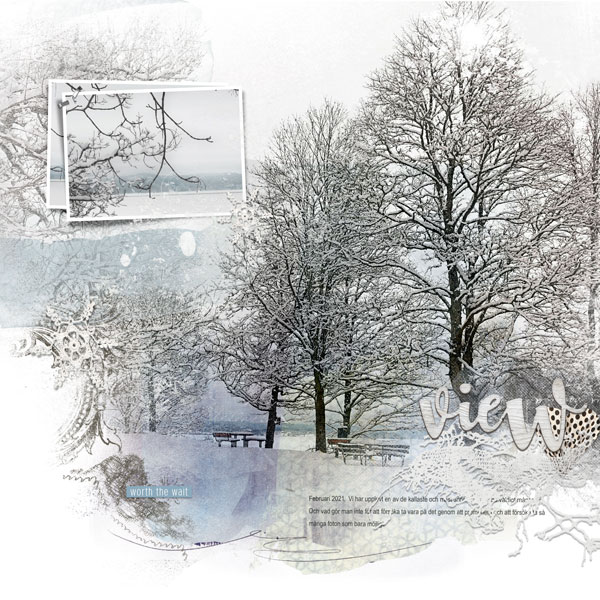 Next up is Love by bienejen – I absolutely fell in LOVE with this layout when I saw it in the gallery.  I love, love the pattern paper choices that make up her pinwheel background hosting those gorgeous roses.   Love, love the the anchoring heart and  arrow in the middle.  LOvely subtle background and layers for florals make for a breathtaking display  – I LOVE!!!!!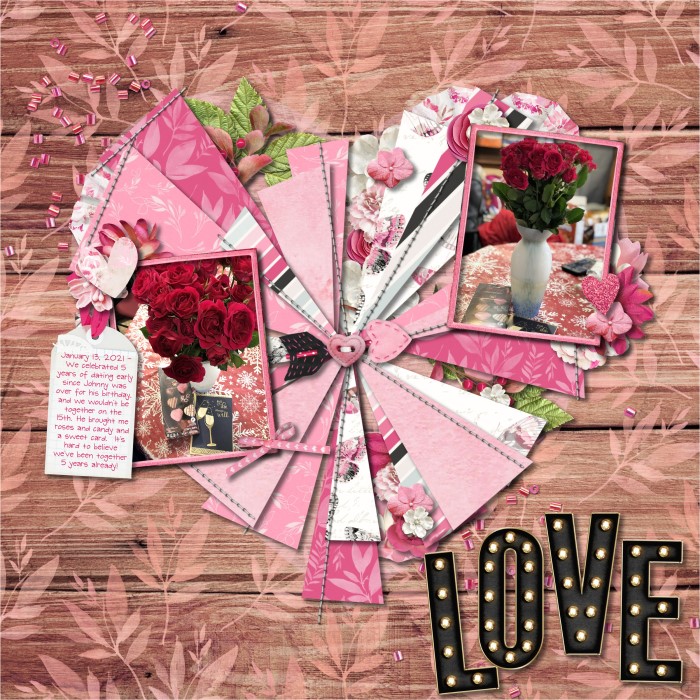 Love Life with You by Anke will totally leave a smile on your face.  I adore the design she has created here with the collage of pp, touch of elements in the circular fashion and of course that perfect capture in the center focus.  Love all the sentiments and journaling lines leaving a bit of joy for sure.   ADore is the Perfect word!!!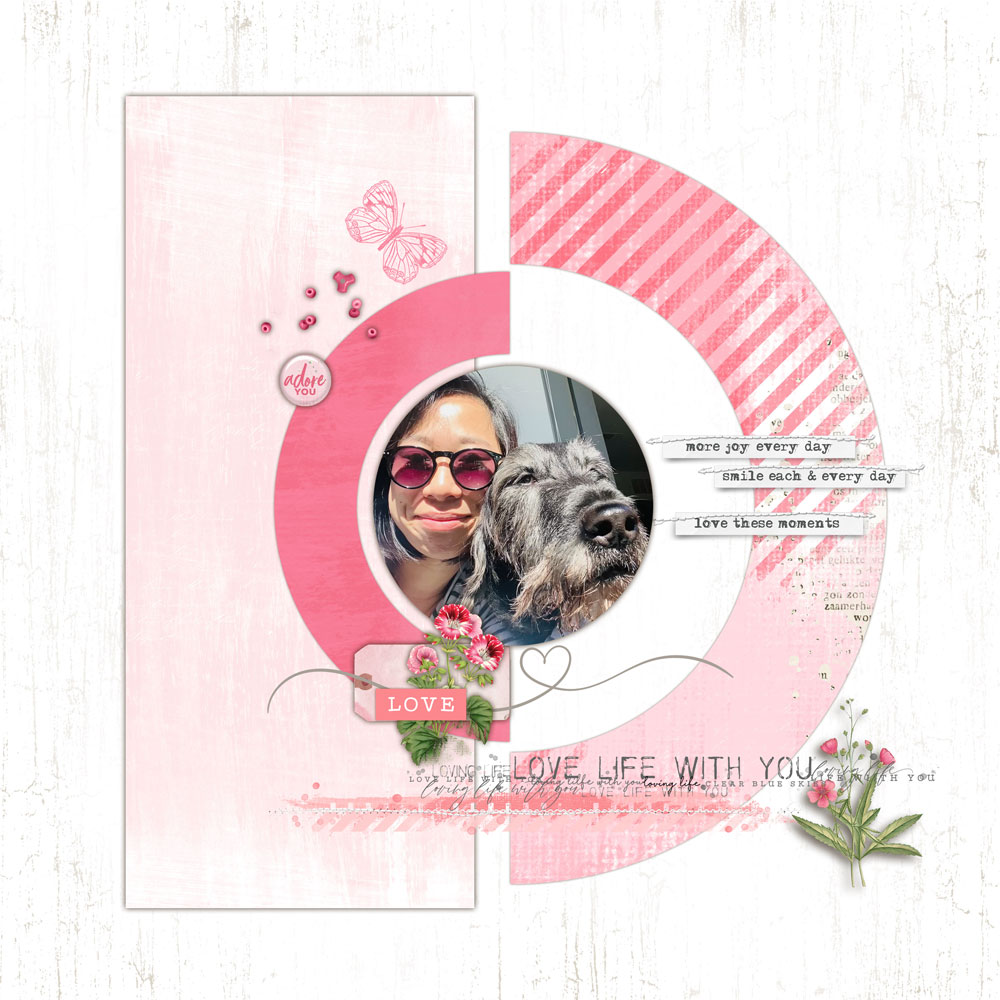 Grazyna Wrzask  is up next bringing a Little bit of Hope – with this amazing gorgeous layout.  Well I 'm not sure I even have the words to put down for this stunning creation.  I love, love, love the reflection she has created with this masterpiece, it speaks for itself — Pure Perfection!!!
Love You by Dady is up next – What is not to love about this next layout.   The fabulous pure delight of life emanates from that perfect moment of life captured.  I love how she had framed the photo with that heart frame and the brushes and clusters in orange are just LOVELY!!!
Hello Magic and Memories by SJLuvscrappin – Oh MY Goodness Gracious – this is just Amazing and full of gorgeous artistry.  The cutwork florals in a delicious display of colors set the mood for the photo series of this precious lil subject – PURE MAGIC!!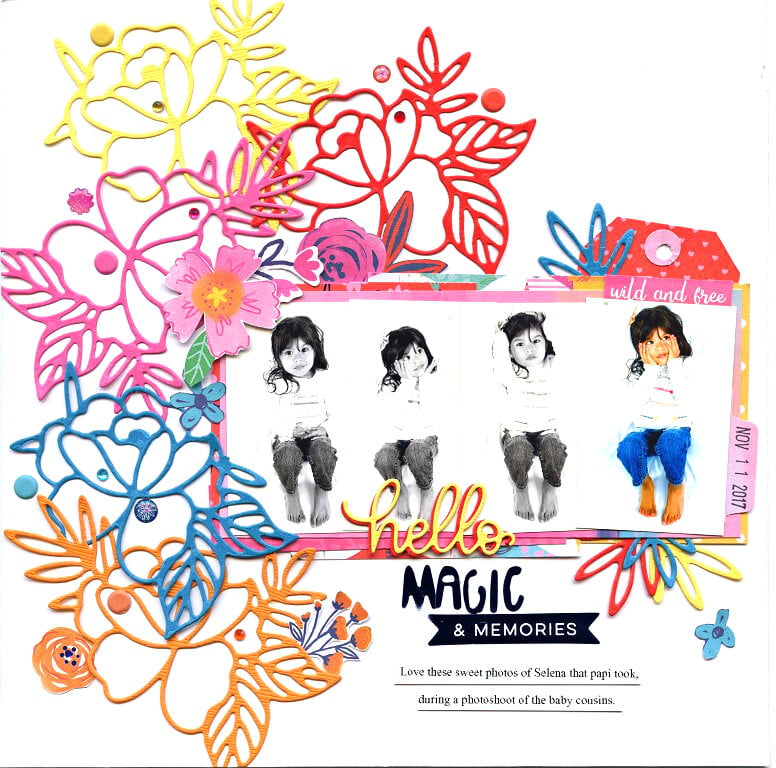 Well I guess you can feel my delight in all of the layouts I have chosen for todays Gallery STandouts – I think Love was a pretty prominent word and theme.   You all never cease to inspire.  Gorgeous layouts n' all the galleries.   Spread some love by clicking on the link's for the photos.
I hope you have enjoyed these as much as I have bringing them to you.
Until next time, stay safe!!
RAchael – xoxo