Good afternoon everyone! Kari here! What an eventful week I have had so far! I have been battling some nasty kidney stones and had unexpected surgery yesterday to kill those nasty buggers because they did not want to pass on their own so I am home recovering today. What better why to save me from the nasty boredom than to swing by all the beautiful galleries for some inspiration. And maybe even do a little bit of scrapping of my own.
I came across quite a few amazing layouts while hitting the galleries tonight so here are a few of my picks of the day.
First pick of the night is :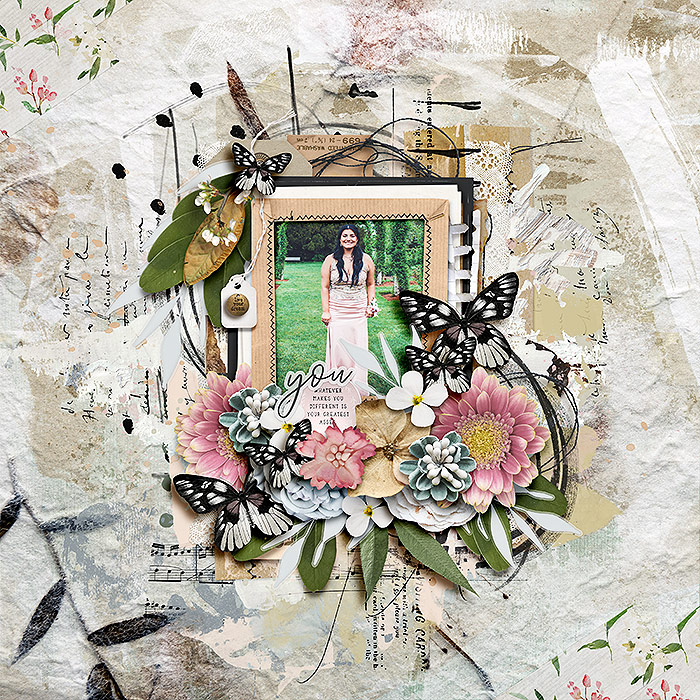 I found this beauty over at the Sweet Shoppe gallery! Look at that floral cluster! OMG isn't she a beaut? I am adoring the soft pastel colors here and the use of the butterflies along with the beautiful photo of the young woman in the pretty dress! The whole layout is just so stunning! and makes my heart happy
My second layout of the night is
I love the mostly black and white colors here with a pop of color here and there! It just makes the whole layout really pop and come together! I adore the rich reds and oranges. I also love the uses of the messy brushes and those threads! Such a all around stunning layout.
Third layout I headed over to Pickle Berry Pop where I found this adorable layout!
I mean how freaking adorable is this? I can't get over how cute the photo is! I adore little men in sunglasses! And I love the pops of yellow! just makes me so happy! Yellow is such a happy go lucky color! And that winking smile button is too freaking adorable for words! Just love this whole layout!
Last but not least tonight I chose a layout from Ginger Scraps
This sweetheart has been a long time commented on my layouts at Ginger Scraps but I have to admit this is one of the first times I went stalking her gallery and I have to say I was not disappointed. It was full of wonderful creations! I love little libraries and we are blessed with my around my local community. This layout brought a smile to face seeing the different ones. I love the one shaped like the catapiller from the beloved children's book! How adorable! Such a lovely page design too!
I hope everyone has a blessed night. I am off to take some more pain medication, try to get some food in my stomach, watch some netflix with Neelix and maybe do some scrapping of  my own. Have a wonderful week and keep scrapping! until next time. Kari signing off!