And then suddenly in a blink of an eye it was September! Just last week it was in the high 90's and even the 100's here in Wisconsin! and now it seems that fall is here as we are experincing 60 degree days this week. So odd how that works! Yet I am welcoming the fall weather. I am looking forward to pulling out my jeans, boots and comfy sweaters.. and not to mention hoodies! Can't wait to snuggle the dog on the couch under a warm blanket and sip on apple cider! I love the colors of fall here in my state. The bluffs are so beautiful! And my dog, Neelix, can't get enough of the falling leaf buffet that mother nature provides for him!
My first find of the night comes from the Lilypad
I have been a long time stalker of Roxana's work! everything she does is eye catching and down right amazing! (if you haven't seen her gallery you should!). This one is no exception! I love her extraction here and how it sits upon the pencil so nicely and the colors used here! It is just so nicely done! And the stamp work… and stitching…There isn't anything about this page that I don't love!
For my next page I was searching the gallery at the Sweet Shoppe for inspriation when I stumbled upon this layout and just gasped!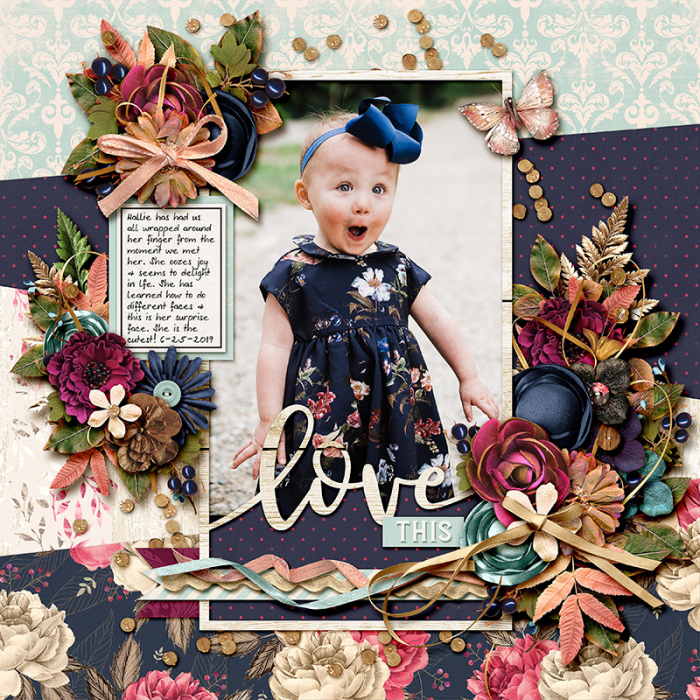 First of all that face! Can it be any cuter? I think not! and second of all the rich colors! I have to say the colors in a kit is what makes me buy it about 75% of the time. (the rest is the theme) And this kit is screaming buy me .. buy me ! to me! but than again I love a lot of Kristin Cronin Barrow's kits.. she always has the most beautiful patterns and colors in all her kits! Anyways! I love the clusters the scrapper did on this page around the adorable cutie pie!
Next I made a little trip over to Pickle Berry Pop. Here I found this beauty
I loved the photo of the sweet little girl making a goofy face! Life is too short not to be silly sometimes right? And I just love sunglasses photos! I loved the scrapper's sweet clusters and how she scrapped in circle shapes! such a well done layout!
Last I traveled to Ginger Scraps. This is where I found my last layout for the night
I loved the deep fall colors of this layout and the layering of patterned papers on top! The beautiful floral clusters framing the photo were a nice touch as well! and such a romantic beautiful photo! Just screams fall!
Well I hope everyone has a  great rest of their weeks! Keep filling those galleries with beautiful pages! I will see you later on this month! Kari signing out for now! Tata!!