Good Night everyone, Kari here. Can you believe it is March already? Seriously! Time is just flying by so quickly!
It's been quite crazy around here weather wise, Mother Nature is being a typical woman and can't make up her mind weather wise! One week we get dumped on with 8 inches of icky eww white snowy mix of snow and ice and then the next week it is in the high 40's and 50's and feels like spring where here in Wisconsin it is nearly short weather! (lol). Crazy Mother Nature then changes her mind again and decides to cruse us right when we get use to the sunny days … another mix of snow. Yup! that is right tomorrow we are suppose to get another 8 inches at least and than more this weekend. Ugh! I was hoping for an early spring. I guess not.
Well onto the picks for this wonderful March night, as I have an early morning ahead of me. I have orientation for my new job tomorrow and my first full day afterwards! Yippie skippie!
The galleries were packed full of wonderful layouts to choose from today I had some tough pickings but here were my choices
This first amazing layout came from Liz at the Lilypad! I was drawn in by the super adorable cute photos! The whole page just brought a smile to my face and brought so much joy to me this evening.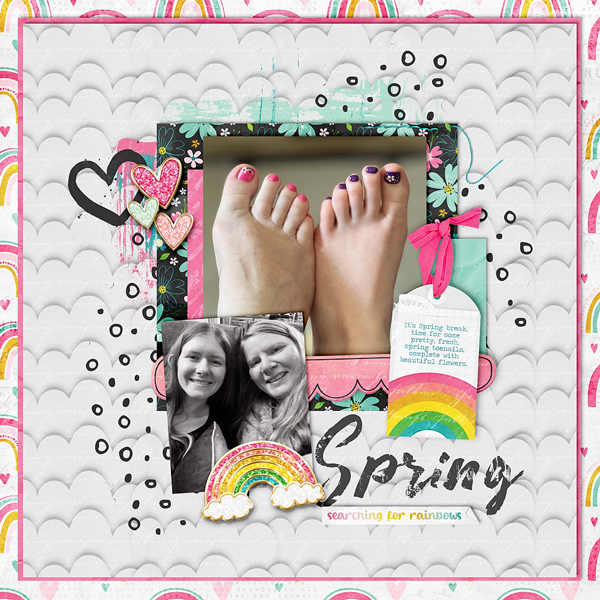 For My second layout of the night I traveled over to the Sweet Shoppe where I found this colorful explosion of happiness! I just loved the springy colors! And OMG look at those cute toesys! This page just screams happiness and sunshine! so well done!
My third pick I found at Pickleberry Pop. I loved the pie chart template she chose for her design and that ADORABLE teddy bear paper! What great photos of the couple as well! and the floral clusters! Such a well put together and stunning page! I love the colors and stamps as well in this page.
Last page was found at Ginger Scraps. Jill scrapped this beautiful page in honor of her friend Kath. I love the stamp work mixed with the messy paints and beautiful cluster framing her friend. Such a stunning page to honor such a treasured friend.
That's all for tonight everyone. I hope everyone has a blessed night and a wonderful rest of their weeks where ever life may take you! Take care and keep scrapping those memories! Kari signing off till next time.