I can not believe it is October already. A year ago I was running around with my head cut off right now planning for my wedding only days away. Now we are preparing for our first anniversary in a couple days on the 8th. It doesn't seem possible. This year just flew by.  I look back at the memories made with my husband this past year and smile. I am truly blessed.
This week is going to be a busy one for me that is for sure. Not only is it of course my first wedding anniversary, but my son is graduating high school! which I am very excited about. Than as all us scrappers know this weekend is DSD! Which is something to be excited about! All the fun and games all the forms have planned! and not to mention the sales! who can avoid all the amazing things our designers have in store for us? does everyone have their wishlists ready? and their wallets? or maybe the hubby's credit card…*hahaha* I won't tell I promise!
No matter what, I truly hope each and every one of you scrappers out there have an amazing DSD this year. Have fun scrapping. Play some games! Learn some new things! Buy some new goodies for your collections! And make memories.
As for our picks for today boy do I have some goodies in store for you!
My first pick of the night comes from the Lilly Pad.
I am loving this layout! I was drawn in by the clouds! Clouds have to be one of my favorite elements! Than the clusters and the cute elements.. followed up by the super duper cute photo! This layout is just super cute! Too adorable not to share with you all!
The second one of the night I found over at the Sweet Shoppe.  This one is by our very own Sheri
Gold Sunflower by SeattleSheri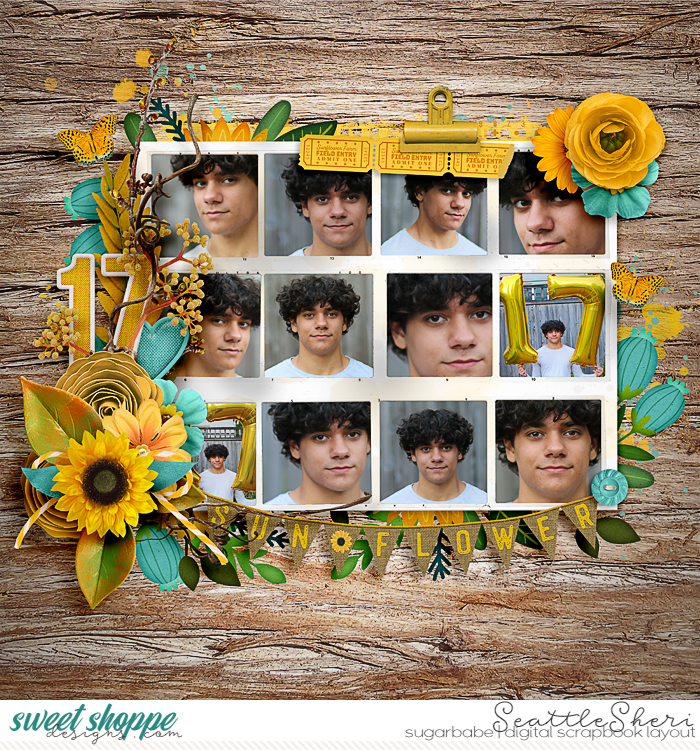 I am always in Awe of Sheri's work. Every freaking thing she does is a masterpiece! And I am also drawn to layouts where boy's are the star of the show. Having a son, I often try to find inspiration in other's work for my own scrapping. Sheri always makes the best boy pages and I draw a lot of inspiration from her!  I love how she can use flowers yet still make the page look manly! And I love how the sunflowers match the 17 balloons in the  photos! And I love the different facial close ups of her handsome son's face! So well done.
For my third pick I traveled on over to Pickle Berry Pop where I found this beautiful layout
I love the soft colors. The layering. The sweet photo. The cute animals! The cluster with everything just so nicely tucked in! its just so well done and beautiful!
Last pick of the night comes from Oscraps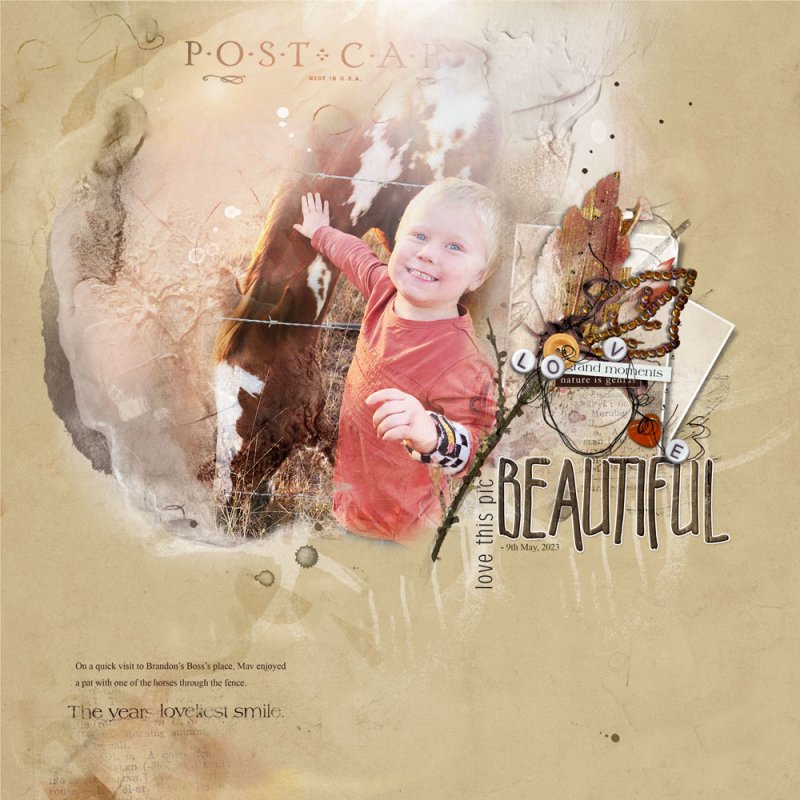 I was drawn into this layout by the sweet little one in the blended photo! need I say more? How adorable! And a horse too? its like a two in one deal! I love the sweet cluster added and the title work! such a beautiful layout!
That's all for me tonight everyone! Take care! Have a wonderful weekend scrapping for DSD! I hope you get a lot of Goodies in the sales! keep those memories alive!